At Capacity
Friday Night Kickball At Welcome All Park Fall Kickball · Female Advanced
Sold Out
MonTueWedThu
Fri
Sat
Sun
between 7:30pm and 9:30pm
Women's Kickball
Team Fees

Regular

75.0

per player + 3.0 Processing Fee

Late

100.0

per player + 3.0 Processing Fee
FreeAgent Fees

Regular

75.0

+ 3.0 Processing Fee

Late

100.0

+ 3.0 Processing Fee
Calling Residents In All Surrounding Areas
::College Park:: ::East Point:: ::Fairburn::
::Union City:: ::Palmetto::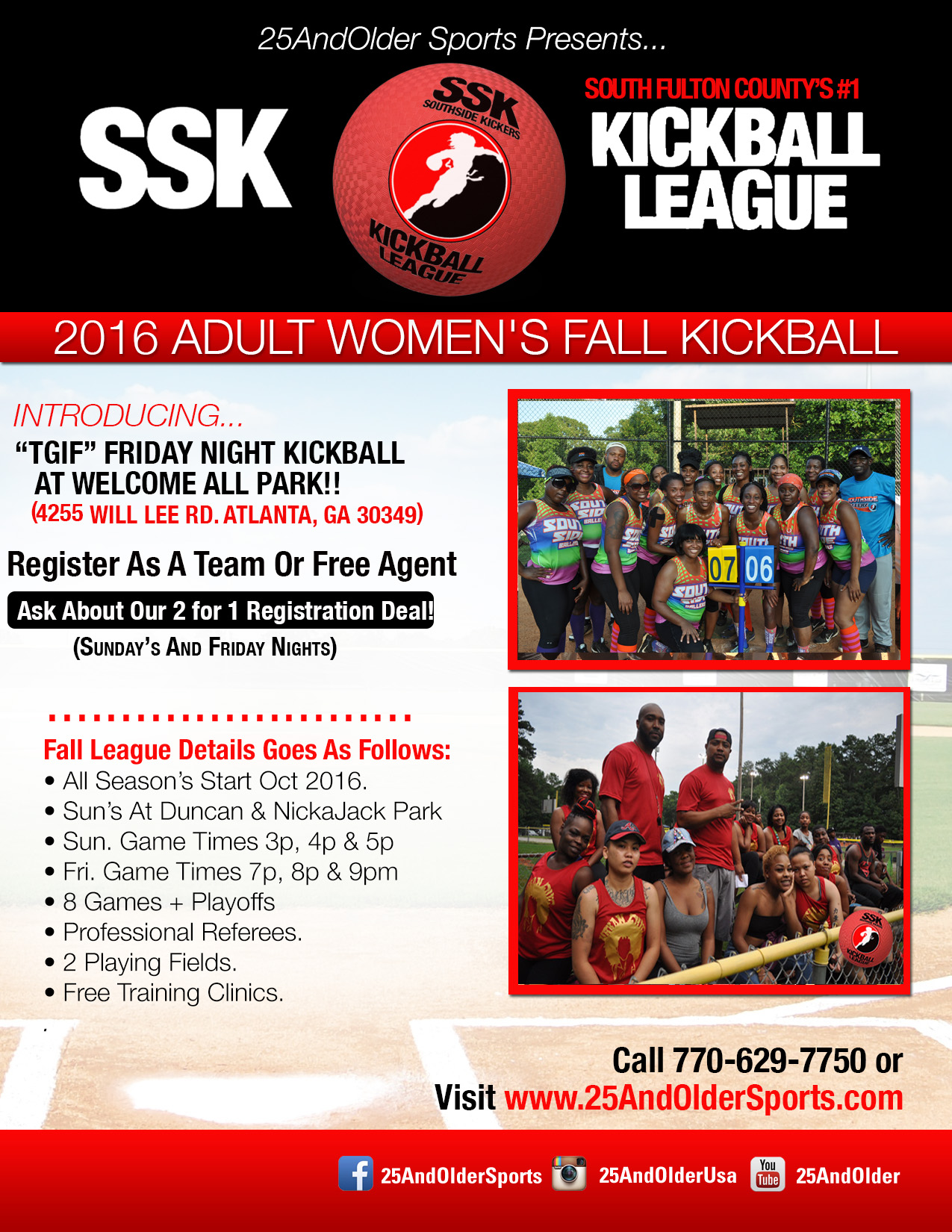 NOTES:

Pricing Does Not Include Uniforms.
All PayPal Transactions Are Subject To An Additional Service Charge.
There will be a $25 "LATE FEE" accessed all payments after Sept 31st.
Please review the Fall 2016 Season Overview (posted above with dates) before you register because there are no refunds.
New And Returning Players CLICK HERE TO REGISTER:
Want To Start Your Own Team Or Volunteer As A Coach?
Email Us: 25AndOlderKickball@gmail.com
Do You Have A Refund Policy?
Yes. If For Any Reason 25AndOlder Sports Cancels The South Side Kickers, Spring, Summer Or Fall Kickball League, We Will Guarantee 100% Refund Of Your Payment! Consolidation Of Parks Nor Pushing Of Dates Back Does Not Constitute A Cancelation.
No Refund If You Cancel. Your personal circumstances may change so keep in mind that you will not be provided a refund. Please consider the following possibilities before you register as they do not entitle you to a refund.***** Job Transfer, Job schedule change, Moving, Injury, Divorce, Babysitter got a better offer, Not having fun, etc, etc, etc
Due to various considerations, 25AO Sports does not allow you to substitute a player in your place. If a player has a concern, it is their responsibility to notify us via email or in person.
If you have questions, feel free to contact us directly
South Side Kickers
770-629-7750
25AndOlderKickball@gmail.com
Register NOW For 2016 Fall Kickball Season!