At Capacity
SSK at Nickajack Park (Spring) Kickball (Outdoor) · Female Intermediate
Sold Out
MonTueWedThuFriSatSun between 3:00pm and 7:00pm
Team Fees

Regular

75.0

per player + 3.0 Processing Fee
FreeAgent Fees

Regular

75.0

+ 3.0 Processing Fee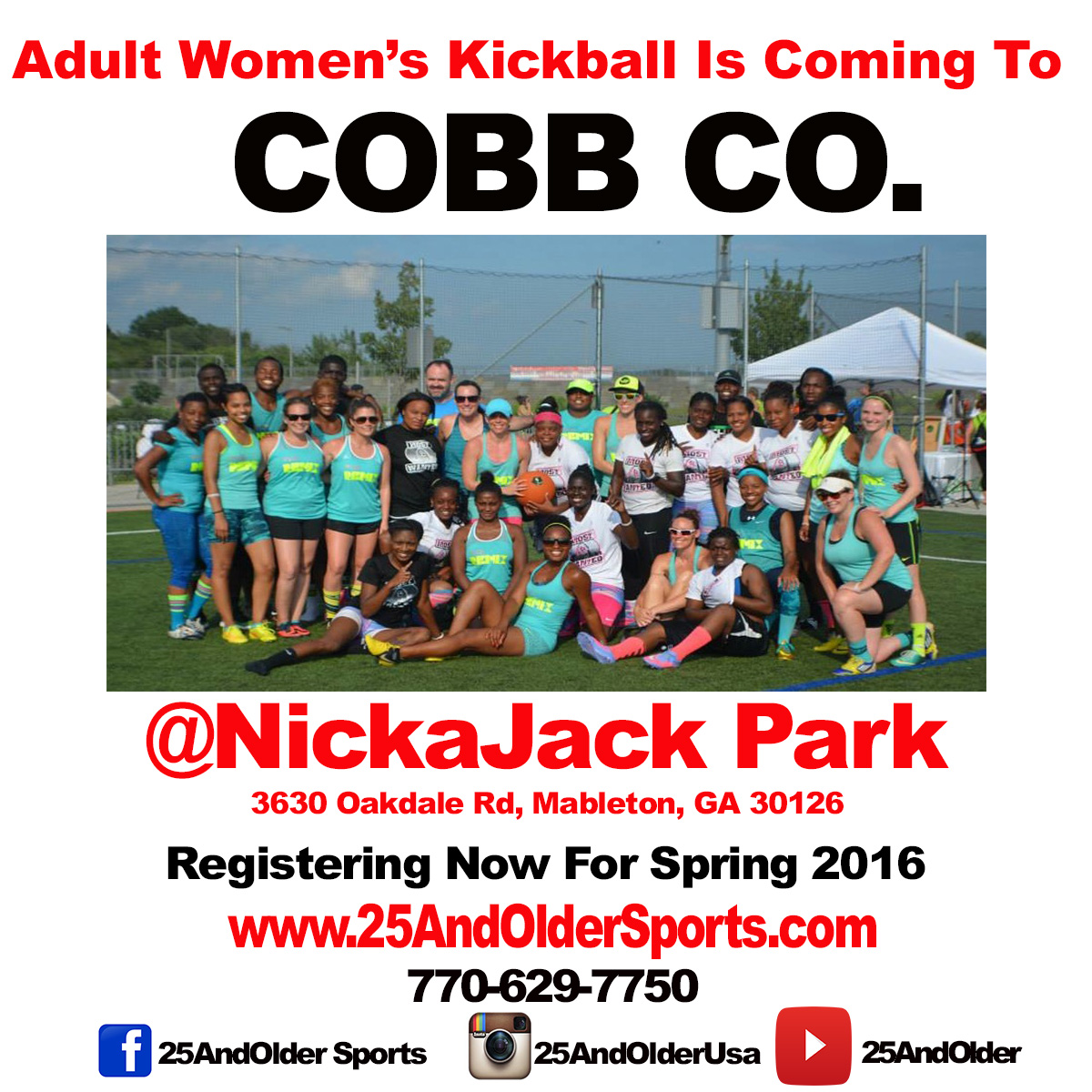 Free Open Practices & Kickball Clinics:
This & Every Saturday At 3pm NickaJack Park
3630 Oakdale Rd, Mableton, GA 30126



Ladies, NOW is the time to start planning for Fall Kickball. We are actively recruiting TEAMS, Individual PLAYERS, GROUPS of Friends, and Coaches for our Fall League and you're invited to join us!

If You're looking to:
Be Active.
Compete.
Lose Weight.
Get Fit.
Have Fun.
Join A Sisterhood.
Relieve Stress.
Then Play Kickball. Come join the 25AndOlder Kickball Family!!!
Skill levels vary. Beginners, intermediate, and advanced are all welcomed!
Free Clinic's And Open Practices:
As a way to help ladies become familiar with the game, we generally provide open practices and clinics before the start of a season. We will start offering these Free Clinics and Practices at NickAJack Park Every Saturday beginning THIS SAT. Mar 26th at 3pm-5pm.


NOTE: GAMES DAYS WILL STILL BE ON SUNDAYS!!
Joining The League
Free Agent: Once you have registered and paid, you are referred to as a "FREE AGENT". As a free agent, the league will assign you a team during the draft event.
If You Have NOT Already Registered and Paid:
League fees are $75 per person before April 30th. All registrants must pay in full before they can participate in the leagues draft on April 30th.
Register and pay by visiting:
https://25andoldersports.com/cobbcokickball/
2016 Summer League Details Goes As Follows:
-Feb. 8th - June 12th $75 Regular Registration Period
-Pre Season May 16th - June 12th.
-Free Agent Draft Day: Sun. June 12th.
-Regular Season Starts: June 26th and ends Aug. 21st. (Tentative)
-Game Times 4pm. 5pm. 6pm. (7pm if necessary)
-8 Games + Playoffs & Champion
-55min Games or 5 innings.
-Professional Referees.
-2 Playing Fields.
-Free Training Clinics.
-Skill levels vary. Beginners, intermediate, and advanced are all welcomed.
FB Group: https://www.facebook.com/groups/25AndOlderSports/
Instagram: https://instagram.com/25andolderusa
If you have ANY QUESTIONS, feel free to contact us DIRECTLY!!
Staff, 25AnOlder Sports
25AndOlderKickball@gmail.com
770-629-7750
Do you have a Refund Policy?

Yes. If For Any Reason 25AndOlder Sports Cancels The South Side Kickers Spring, Summer Or Fall Kickball League, We Will Guarantee 100% Refund Of Your Deposit Or Payments! Consolidation Of Parks Does Not Constitute A Cancelation. Delays in a leagues start date, also does not constitute a Cancelation. Delays are regarded as a part of development. No Refund If You Cancel. Your personal circumstances may change so keep in mind that you will not be provided a refund. Please consider the following possibilities before you register as they do not entitle you to a refund.***** Job Transfer, Job schedule change, Moving, Injury, Divorce, Babysitter got a better offer, Not having fun, etc, etc, etc.

Due to various considerations, 25AO Sports does not allow you to substitute a player in your place. If a player has a concern, it is their responsibility to notify us via email or in person.